Janak Ramakrishnan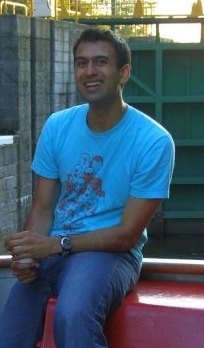 Employment Information
I'm a software engineer at Google in New York. I'm on the Build team, where my work focuses on graph processing and concurrency issues.
My team has released Bazel, an open-source version of Google's internal build tool.
My mathematical research is in model theory, mainly o-minimality and ordered structures.
---
Professional Information
---
Research
My author identifier at the arXiv is ramakrishnan_j_1.
Papers

Talks

Slides for other talks not listed here are available in the talks directory

Other

I wrote an article about Pascal's Triangle and combinatorics for an Indian children's magazine called "Jantar Mantar" in 2002. The magazine's website is down, but here are part one and part two. Unfortunately, I do not have access to the images in part two. Due to the intended audience, spelling and choice of examples may seem strange to American readers.
---
Other Interests